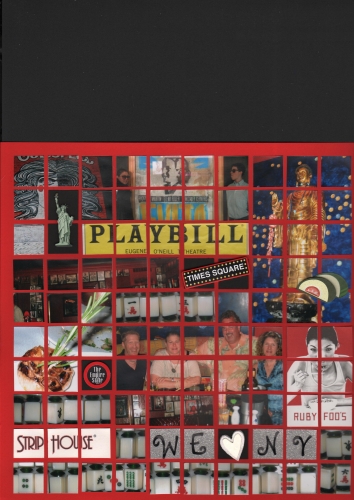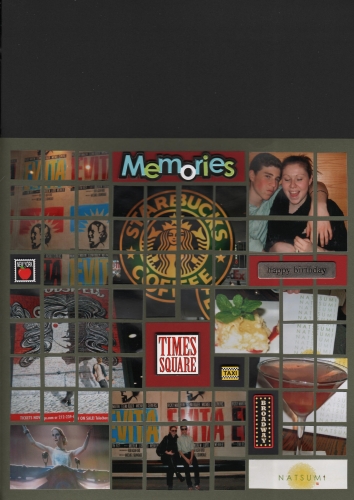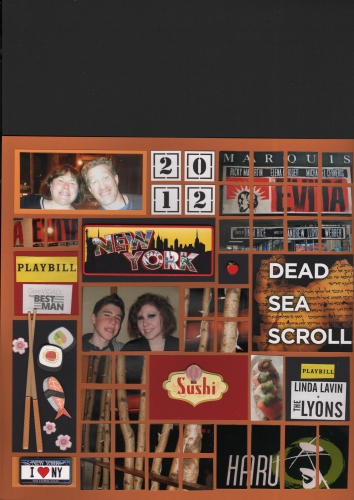 What can I say? We love NYC, we love Broadway and we love sushi! These pages depict several trips into the city to see a variety of Broadway shows on different occasions. When we ask each of our kids what they want to do for their birthday, it's always the same answer. Let's go into the city and see a show and have sushi"! This spring we saw Evita and Godspell with the kids, The Best Man, Book of Mormon with our good friends and The Lyons with my Mother . We also took the kids to see the Dead Sea Scrolls Exhibit.

I started doing these pages (the brown and green one) before I even read this challenge. When I saw that we needed to do a 1 inch mosaic on scarlet paper, I knew that this page would complete the series. The last trip into the city included lunch at Ruby Foo's where you can see the pictures of the big gold Buddha and red and green mah jong tile curtain. I always take background pictures in restaurants (just in case) and grab a business card on the way out. You can see the Ruby Foo's business card on the far right side towards the bottom.
I had some small NY themed stickers in my stash to fill in some spaces along with a sushi themed sticker package that I used on the brown page.
I don't know what the next trip into the city will bring but I know that I will be making another NYC page!

Shared by Beth Glass on September 19, 2012 | Memory Date: September 18, 2012