You've activated your Journal Account and now you are ready to start writing – so where do you begin?
1. Click on the Write button – located just below the Journella® Logo. (see image below)

.
2. In the center of the screen you will see your Write View Editor (see image below)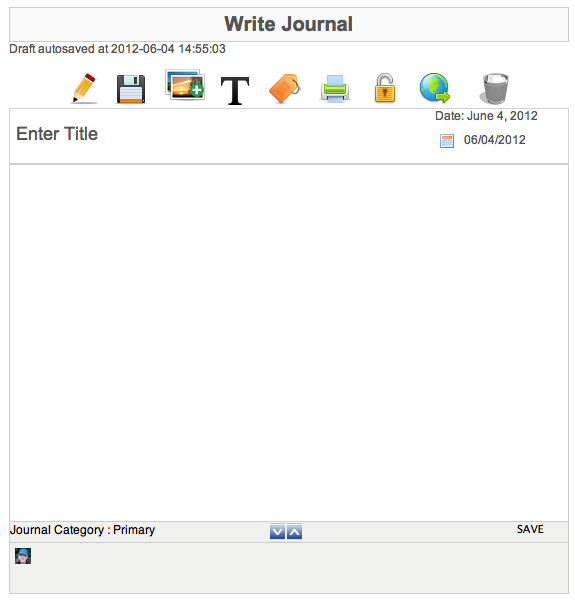 3. At the top of the WRITE EDITOR you will see a row of Icons.

A.   Pencil icon- is to start a new entry (if you have finished writing/editing your current entry)
B. Disk icon-  SAVE your entry. (There is also a SAVE option at the bottom of the screen)
C. Photo icon -  add photos/ images.
D. " T " symbol – open the text formatting options.
E. Tag Icon –  select a category or add tags.
F. Printer Icon – Print entry
G. Lock  - lock and unlock your entry
H. Globe – Share to Journella's Public Story Board (optional.)
I. Trash – Delete your entry.
4. Below the row of Icons you will find a place to enter your title (Mandatory field) and the option to select a MEMORY DATE (This is an optional field.) Click on the calendar icon to select/assign a new  memory date.

You can add a memory date to journal entries for things that you want to show on your calendar on another date (in addition to the current date.) For example, if  I am writing a memory that happened back on October 24, 1997 – I will add a memory date. The category icon for this entry will show on the calendar date written (current day) and also on the memory date of October 24, 1997.
5. Next you will write your Journal Entry in the blank space below the title – just click the box, your cursor will appear, and you can begin writing and adding images.
6. At the bottom of the screen you will see information about the category (s) assigned, arrows to allow you to increas the size of text box, and a SAVE button.
If you have assigned multiple categories, you will also see a red button with an X below each – with the exception of the Display Category. (The display category assigns the icon that will show on your calendar views.) You can't delete the display category without assigning a new display category first.)

.